Automatic Electrofusion Welding Machine EF500
Product Detail
Product Tags
HDPE electrofusion welding machine is a indispensable welding tools for the connection of HDPE pipe & HDPE electrofusion fittings. The equipment meets the ISO12176 code about the bar-code international standard of the electrofusion machine. It can identify the bar-code and weld automatically.
1. Multi-language LCD display, buttons to set the parameters, pipe welding following the prompts.
2. With the welding functions of bar code scanning, manual programming and U disk data import, support pipe fittings automatic recognition and automatic welding.
3. It has a soft start function to effectively prevent the impact on power.
4. Constant output when the rated voltage at ± 20% fluctuation, ensure the reliability of the welding process.
5. It will be stopped automatically when abnormal fusion process appears.
6. Automatic voltage regulator, power supply voltage overrun protection
7. Automatic temperature compensation, won't be affected by ambient temperature when welding.
| | |
| --- | --- |
| Model | EF500 |
| Welding material | PE solid wall tubecompatibleSteel mesh skeleton tube |
| Welding range | DN20-DN500 |
| Supply Voltage | 110V or 240V 50Hz/60HZ |
| Constant voltage/output voltage | 10V-80V |
| Constant voltage/output current | 5A-60A |
| Max. output power | 5.0KW |
| Ambient temperature | -15º~+50º |
| Relative humidity | ≤80% |
| Time Range | 1-9999 S |
| Time Resolution | 1 S |
| Time Accuracy | 0.10% |
| Output voltage accuracy | 1% |
| Welder store records | 250records*6 |
1. 12 month guarantee, and all life service.
2. In warranty time, if non-artificial reason damaged can take old change new for free. Out of warranty time, we can Offer maintenance service.
1. Mark the scraping area with a marker
2. Scrape off the oxide layer on the pipe surface, and the scraping depth is about 0.1-0.2mm.
3. Insert the scraping end into the pipe stopper, and fix the pipes at both ends with the fixing fixture.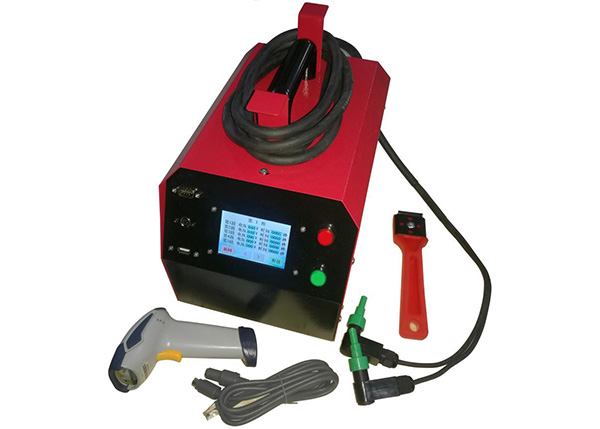 4. Ensure  the input voltage and time of the welding machine are consistent with the identification of pipe fittings During welding, or directly scan the barcode for welding.
5. When the preparations are ready, press the confirmation key, the welding machine will display the welding parameters again, and after full confirmation.Press the start key again to start welding. After welding, an alarm will be given automatically, and the welding procedure finished.
---
Previous:
EF400 Electrofusion Welder
---
Write your message here and send it to us