S-series Butt fusion welding machine S160 -S200-S250-S315-S355
Product Detail
Product Tags
Application
The raw material of the machine frame is aluminum ZL104, it is light but strong, is one of  the best material for machine.
The main electrical apparatus elements are best of china, many are imported from abroads.
Removable PTFE coated heater with separate temperature control system, the temperature can be controlled to a minimum range.
The electric facer adopts reversible double cutting edge blades, which can make the cutting effect more perfect.
Specification: 

| | | | | | |
| --- | --- | --- | --- | --- | --- |
| Model |      S160 | S200 | S250 | S315 | S355 |
| Welding range(mm) | DN63mm-160mm | DN63mm-200mm |  DN90mm-250mm | DN90mm-315mm | DN160mm-355mm |
| Heating plate temperature | 270°C | 270°C | 270°C | 270°C | 270°C |
| Heating plate surface temperature(170-250°C) | <±5°C | <±5°C | <±5°C | <±5°C | <±5°C |
| Pressure adjustment range | 0-6.3MPa | 0-6.3MPa | 0-6.3MPa | 0-6.3MPa | 0-6.3MPa |
| Working Voltage | 220V | 220V | 220V | 220V | 220V |
| Heating plate power | 1.5KW | 1.8KW | 2.3KW | 3.1KW | 3.5KW |
| Cutter power | 1.0KW | 1.0KW | 1.1KW | 1.1KW | 1.1KW |
| Hydraulic station power | 0.75KW | 0.75KW | 0.75KW | 0.75KW | 0.75KW |
| Option parts: | Stub end holder |   |   |   |   |
S-series Butt fusion welding machine advantages:
Machine quality advantages
1.The hydraulic station all closed ,which not only improves the beauty of the machine, but also plays a role of dust prevention and water proofing, not only slows down the aging of electrical components, but also protects the interior of the machine from being damaged by external factors, and the case cover is easy to remove, so it is convenient for later maintenance.
All electrical components of other companies are exposed outside, which is easy to cause damage to components and shorten service life
2.Each machine of our company has abandoned the traditional chain drive and has been upgraded to gear drive. The use of gear combined with plane bearing makes the milling cutter rotate more stably and milling more accurately in the operation process.
Other companies adopt chain drive mode, the chain will be loose after a long working time, which will affect the milling effect. The other is that the chain is easy to break
3.The milling cutters  integrated tool holder design is combined. The integrated milling cutter holder designed firmly hold the motor, and the front cover of the motor is not easy to be damaged.
Other companies only use nuts for fixing, which is easy to loosen for a long time, affecting the operation of the motor
4.315 and above 315 model all All reinforced.  Other company not reinforced, not firm in use.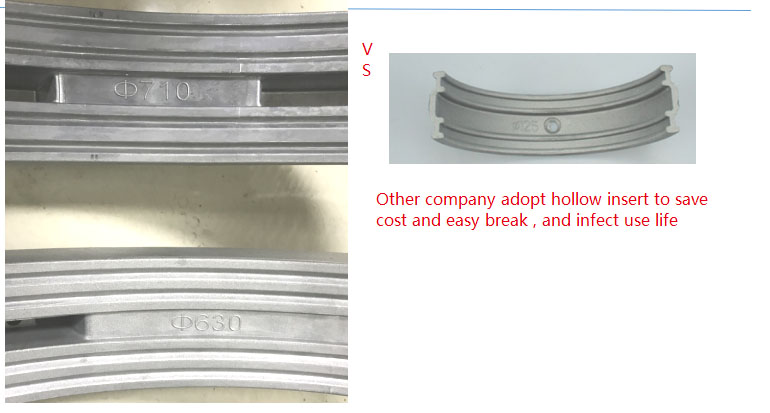 5.All insert are solid.Compared with other hollow fixture manufacturers, our service life is longer and our work is more stable
6.All Quick connect import from Italy, so work long life.
7.All milling cutters are made of white steel blades with high hardness, which are more wear-resistant than normal blades.
8.250 and 315 two model with wheels. 160 and 200 model not heavy so can move by person ,so not add wheels, above 315 model this wheels not enough ,so not add.
---
Previous:
SHDG800 Plastic Fitting Machine
---
Write your message here and send it to us